Holjeåleden waterway
The Holjeån river runs trough the Holjeån valley from Olofström down to lake Ivösjön. The tour consists of two 6 kilometer-sections and starts in Östafors in the north leading all the way down to the lake.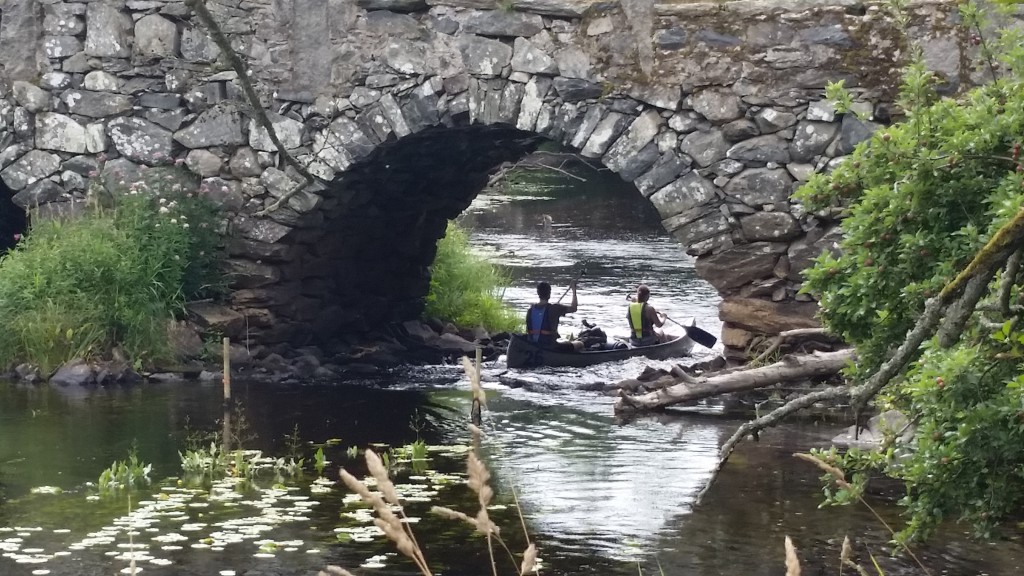 The nature surrounding the river is almost completely untouched and canoeing down the river gives you a timeless and almost tropical feeling. The water is relatively clear. There are small rapids in the northern part and calmer areas in the southern part. The ground consists mainly of sand, with some stone sections. You can always opt for a break and discover different sights along the river, have a barbecue, fish and even stay for the night at Humletorkan youth hostel, which is only a few steps away from the river.
More information and map download
If you finish off at lake Ivösjön you can chose a nice island for a picnic or barbecue and set up your tent for the night.  Ivösjön Arhipelago
Fishing in the river requires a fishing license.
More information and purchase of fishing permits.

Näsum – Ivösjö lake
From the village of Näsum the river meanders through a deep trench down to lake Ivösjön. This section is free from rapids and you do not need to carry the canoe on foot at all. Just enjoy the tour that is suitable for absolute beginners – and families and friends.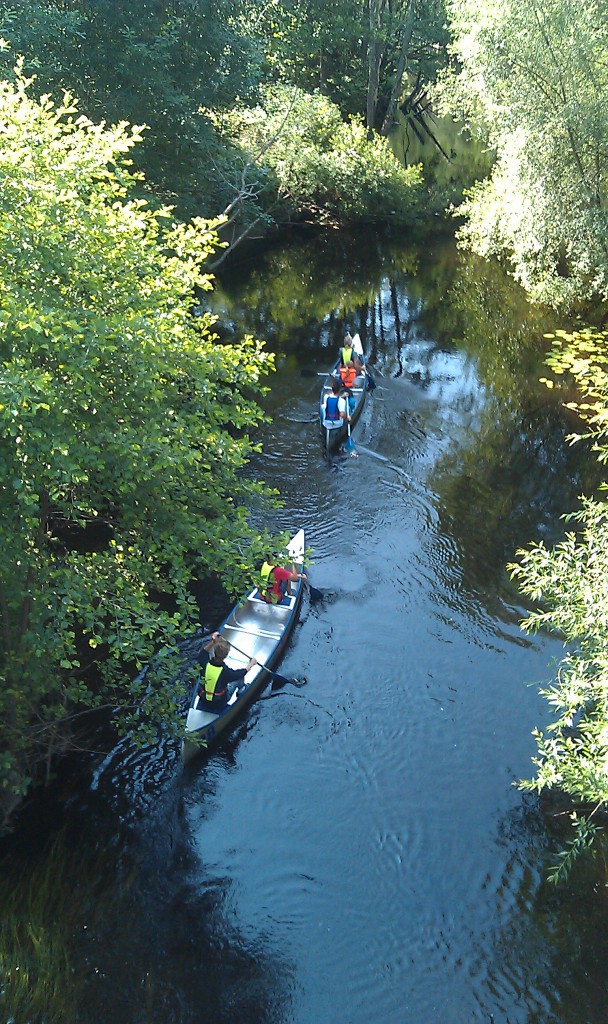 The tour starts at the old mill behind the church in the village. You will find two rest areas along the river where you can have a picnic or a barbecue. There are two barbecue sites at Vången – one of them is roofed and equipped with tables and benches for up to 16 people.  The other spot has a minor table with benches. Another roofed barbecue site with tables and benches with space for up to 8 people can be found at Tomsabron close to Humletorkans café and youth hostel.
In collaboration with Humletorkan we can offer individual Package Deals for families and groups including a canoeing trip, and accommodation. Please contact us if you wish to obtain more information. We would be happy to help you!
Humletorkan
Östafors – Näsum
Deep in the fairytale-like landscape of Sibbarpsdalens valley you will pass cultivations, pastures and beautiful beech forests. Due to rapids, there are three portaging sections on this passage, Gonarps powerstation and Forsagården, with a length of around 175 meters each. The third one at Västanå mill is the portage just 50 meters. The accessibility of this section is dependent on the actual water level. There are some minor areas with rapids on this section that require canoeing experience. At the starting point in Östafors there's a shelter with a barbecue site  that is part of the Skåneleden trail. Benches and a barbecue site can even be found at Gonarps kraftstation (power station).
Transportation and parking
Canoe transportation will be organized by the Wetlandi staff and is included in the price for the corresponding section. Take a look at our pricelist to see what is included in our different offers. Tours & Costs. 
The customers need to organize their own transportation to the starting point – and, if needed, even the placement of a car. We will assist you as much as we can and time allows. The bus from Axeltorp to Näsum and Östafors runs every hour. In both cases, the bus stops are around 500 meters from the starting point.  Public bus 561 
There is a small customer car park at the starting point in Näsum. If you wish to launch your own canoe at the mill, please get in touch with us.
Fire safety and the Right of Public Access

Please act considerable and show respect for nature when you canoeing.  The Right of Public Access for canoeists
In the folder "Lighting Fires and the Right of Public Access" you can learn more about when you are allowed to make up an open fire outside and when not – and how to do it safely.
Lighting Fires and the Right of Public Access