Lake Ivösjön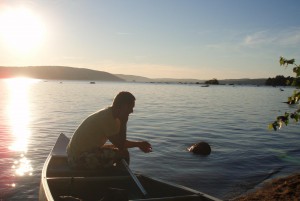 Lake Ivösjön measures 54 km2 and is the biggest lake in Scania. Because of its many fantastic views, it is even said to be the most beautiful one. The surrounding nature is diverse and stretches from the southern plains with flat reed coves to the northern parts with a more hilly landscape. Here, you will find many of the around 40 islands of lake Ivösjön, among others even the two biggest ones, Enö and Ivön. The latter is actually the biggest island in Scania, with year-round residents. Many of the local tales and legends are linked to the island at some point. In the Middle Ages Danish archbishop Sunesen lived as an eremite on Ivön.
Living like Robinson in the Ivösjön archipelago
There are a lot of exciting islands in the northeastern area of lake Ivösjön. Only a few hundred meters away from the mainland and civilization you can live like Robinson Crusoe on an uninhabited island with almost tropical vegetation. Many islands have nice bathing spots and on some of the islands have Wetlandi camps for their visitors, equipped with with tables, benches and barbecue sites.
Wetlandi is responsible for maintenance and equipment of the marked rest areas that can be found on the map "Ivösjöns Arkipelag". All sites can be used free of charge by Wetlandi customers. For visitors who want to use these sites without being a Wetlandi customer are the price 75,00 SEK per person and night. Please contact us for approval before your stay.
All visitors have to respect and be aware of the rules of the Swedish Right of Public Access.
Map and visitor information about Ivösjön archipelago.pdf
The Right of Public Access for canoeists.pdf
Rules for visitors of lake Ivösjön.pdf
Fire safety

In the folder "Fire safety and the Right of Public Access" you can learn more about when you are allowed to make up an open fire outside and when not – and how to do it safely.
Lighting Fires and the Right of Public Access.pdf
Fishing
Lake Ivösjön is an excellent fishing spot with a huge variety of species. The most common fish are Northern pike, bass, different species of white fish and salmon. Even some threatened species such as spined loach and European river lamprey live in the lake. In the dark and shallow sinkholes rare small crayfish can be found – remnants from when lake Ivösjön was part of the Baltic Ice Lake.
More information and purchase of fishing permits.
Fishing permits can even be bought at Wetlandis reception.
Birdlife
Among the motley and richly varied collection of feathered creatures that inhabit the lake and its surroundings, you will find osprey, black-throated loon, Eurasian bittern, kingfisher – and, according to the Swedish botanist Carl von Linné, the most beautiful bird, the smew. From April 1st to August 15th, visitors should refrain from entering the breeding grounds of the osprey. Please pay attention to the signs. The beach on the southwestern part of Enö, north of Söndre udde, and 1700 meters further north is classified as a natural reserve. During breeding time, it is not allowed to access this specific area.